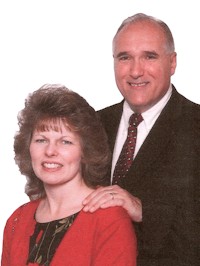 About Chris & Michelle Grimbilas
Dr. Chris Grimbilas accepted Jesus Christ as Saviour on June 21, 1984 at the age of 26. By that time, he had already graduated from Rider University with his Bachelor's degree in Commerce and had a solid career as a computer analyst. In 1989, Dr. Grimbilas, with his wife and children, moved to Springfield, Missouri to attend Bible college. After graduation, the Grimbilas family moved to Kansas City, where Chris served as bus director and worked in several different ministries. Since then, Dr. Grimbilas continued his education, getting his Master degree in theology with an emphasis in family ministries and then his Doctorate in theology. At the same time, he and his family were instrumental in starting Bible believing Baptist three churches. Dr. Grimbilas taught as International Bible College, where he also served as Dean of Students, assistant to the Vice-president, and traveled with the college tour group. Due to his extensive business experience, Dr. Grimbilas has also helped several individuals and ministries with their finances, counseling regarding budgeting, getting out of debt and investing for the future. Today, Dr. Grimbilas works with Pastor Alan Archer at the exciting Faith Way Baptist Church, a solid Bible believing ministry that emphasizes building lives through Jesus Christ.
Michelle Grimbilas accepted Christ as her Saviour at the age of nine. After graduating high school, she studied at Boston University for a year before getting married to Chris. She, too, attended Bible college in Springfield. She would go on to complete her Bachelor's degree in Religious Education while Chris worked on his Masters. Over the years, Michelle has served as a Christian school teacher, teaching at both the elementary and High School level. She taught at International Bible College in the fields of education and ladies ministries and also served in the office as an administrative assistant to the college president. Over the years, Mrs. Grimbilas has also been in demand as a speaker at Christian education conferences and ladies retreats. Throughout her ministry, Michelle has been called upon multiple times to counsel with ladies, encouraging them to build their lives for the Lord. Michelle also has a considerable resume of business management experience that compliments their financial counseling ministry.
Chris and Michelle have been married over 25 years. They have five children, all of whom are actively serving the Lord in their local churches. They have been called over the years to speak in churches regarding building and strengthening marriages. They deal with all areas of family life, including employment, finances, parenting, building relationships and more. Their heart is for seeing the hearts of families turn toward the Lord. It is from this heart that BLISS was born.